Different use cases with Seidat
Using Seidat to only one purpose? Check how you can widen the use of Seidat.
---
Commonly Seidat presentations are either sales or company presentations, but Seidat can be used in many other ways too. Here are some examples of different ways Seidat can be utilized.
Sales and company presentations
The properties of Seidat work well when a sales team is using Seidat as their presenting tool with the customers. One of the best ways to save time and money with Seidat is to utilize the Seidat Live possibility. This allows your organization to sell via the internet. You can easily share the link with the customer and control the presentation from anywhere using any device connected to the internet.
Social media campaigns
You can create content to your social media campaigns with Seidat. Once the presentation has been created, it can still be modified even though it would already be published. Turn on Google Analytics on your team and start gathering data of the viewers of your presentation. Check out few examples below.
Picture 1. Presented on web browser newsfeed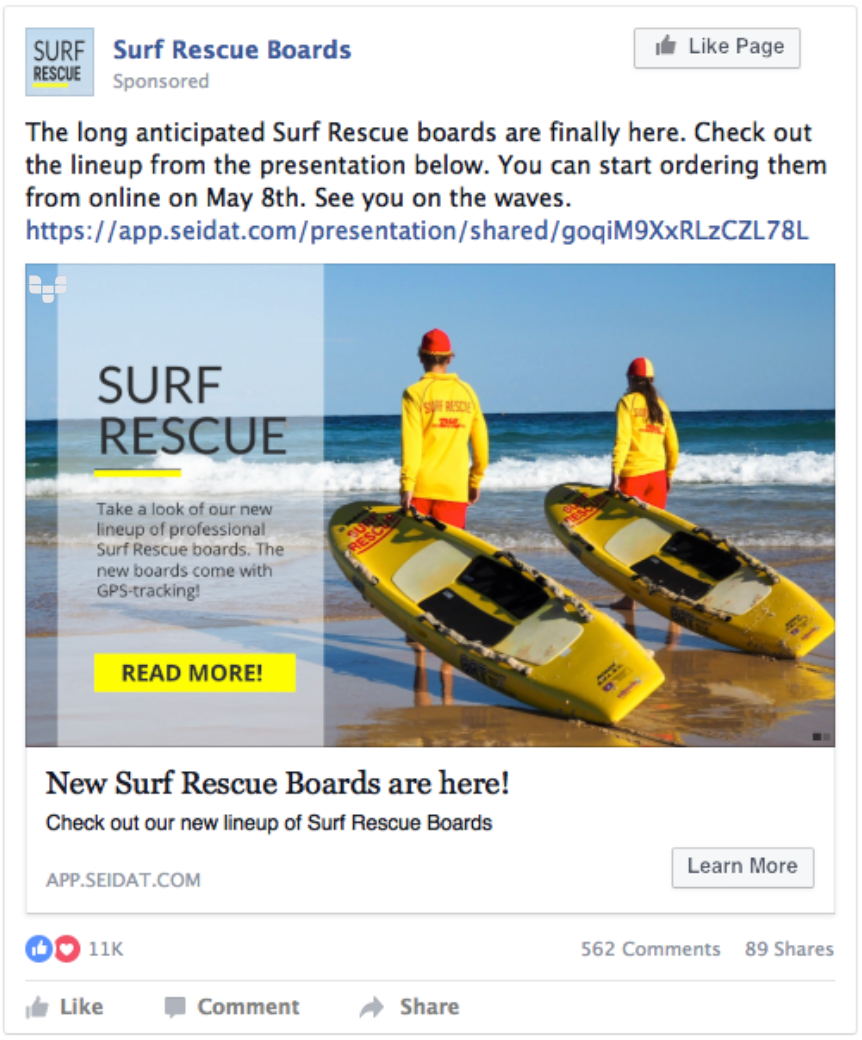 Picture 2. Presented on mobile newsfeed
Training material
For consultants and educators, Seidat can offer few key functions to help their lives. You can easily shape and modify the presentation even after you have shared it if the content changes. Secondly, Seidat presentations are easy to share. Create a link, copy+paste it and send via text, email, or create a QR-code to the venue.
Embedded on a website
You can embed all presentations on your website. There are few cases when it might be a very handy solution:
Your websites are not yet ready. Create a quick website with all the necessary info with Seidat and embed it to the empty pages under your domain.
You want to have a picture gallery on your website that is easy to update. Embed Seidat presentation and with query parameters, you can turn it into an automatic picture gallery.
Your website has frequently changed content and it is a hassle to update. Embed the content with Seidat and the updating becomes easier.
Documentations and reports
Building a report is quite simple and straightforward with Seidat. You can have a report template that you can update with the latest info. Have all the pictures, forms, charts, etc. embedded in the report and share it instantly from the spot to the customer or colleague.
Meeting memos
Write down what you went through, add pictures and content from different sources and share with everyone present in the meeting.
Mass events
You can create the event program with Seidat. Every guest can use it from their device easily without any installations or plugins. Few cool things you can do:
Have your schedule in the presentation. Create links within and outside the presentation depending on the need. On the schedule, you can promote few lunch offers and by pressing the name of the restaurant the link can redirect to the restaurant's website for example.
Create social media buttons. You can also create pre-written Tweets, LinkedIn posts that help the guest to be social.
Add videos from partners and speakers. You can embed even the live stream of the venues different stages or have all the recorded streams embedded to Seidat
If your event has speakers with their own presentations you can embed them into the program for the guests to go through later.
Offers
There are few key reasons you should make your offers to Seidat too.
You can analyze if the presentation has been opened or not.
You can change the content of the offer if the customer requires something else that originally wasn't anticipated. There is no need to send the second, third, and fourth versions of the offer. All you need is one link.
You have control of the offer even after you have sent it. This does not happen with offers sent with PDF or other normal file formats.
You can embed all sorts of content from different sources.
Your offers will stand out from the crowd of boring PDFs full of text.
If the customer still wants to archive the offer you can just print the presentation as PDF straight from Seidat. Or utilize Seidat eSign feature, more about eSign here.
Categories: